Esthetics Services by Maria
Enhance your natural beauty
Ditch the daily makeup routine with one of Maria's popular beauty services. Lash extensions and lash lifts draw attention to your eyes, while a brow lamination gives the look of fuller brows. Treat skin problems and promote collagen production with microneedling, and get glowing skin with demaplaning. Whether this is your first time trying a service or you can't stop coming back for more, Maria's goal is to make the entire process comfortable and have you leaving feeling like a more refreshed and beautiful version of yourself.
Lash Extensions
Lash Lifts
Brow Lamination
Microneedling
Dermaplaning
Book Your Appointment
Lash extensions
MariaVBeauty lash extensions are all customizable to your desire. We use a wide range of curls for every look from natural C curls to exotic L curls!
Full Sets
Full sets are for those just getting started with lash extensions or need more than a refill.
Refills
Refills are recommended every 2-3 weeks to ensure 40% lash extension retention still remains.
Lash lift & tint
A lash lift curls your lashes from the base to the tip. Ditch your eyelash curler today!
Brow lamination, waxes, and tints
Brow lamination is the hottest trend on the market! A 'perm' for your eyeborws, brow lamination gives your eyebrows a uniform shape going in an upwards direction. The result? Fuller looking brows!
Brow lamination & wax & tint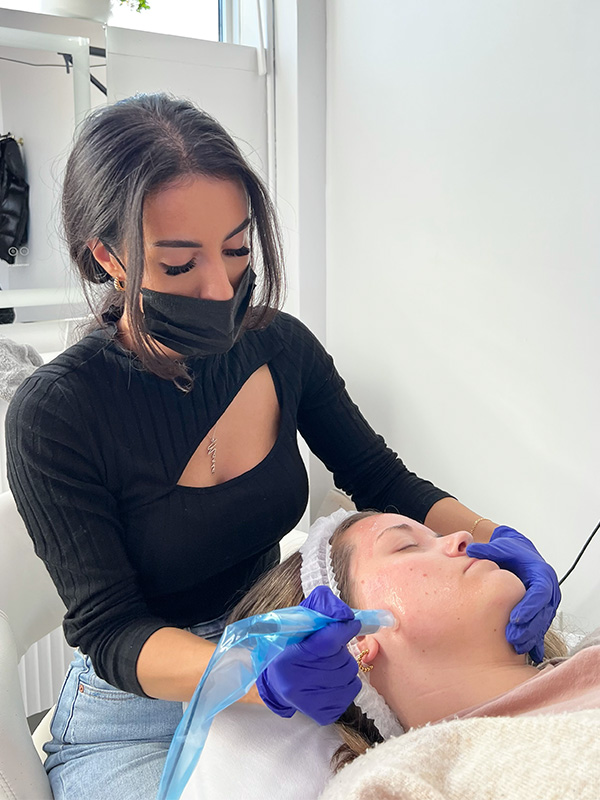 eDermaStamp® Microneedling
eDermaStamp® is the gold standard of professional microneedling! This procedure promotes skin repair and reduces the appearance of fine lines, wrinkles, scars, and stretch marks. Licensed by Health Canada.
What is microneedling?
Microneedling, also known as collagen induction therapy, is a semi-invasive treatment that promotes collagen and skin renewal. It is a hand-held device consisting of tiny, surgical-grade needles that puncture the skin, resulting in activating our skin's natural healing abilities. Collagen production is increased and new cells are formed.
How does microneedling work?
Before beginning, a numbing cream is applied to ensure no discomfort. The skin is then properly cleansed, and hyaluronic acid is applied. Tiny punctures are created in the epidermis with a hand-held microneedling device to trigger the growth of new cell tissue. A typical treatment session is around 60 minutes long.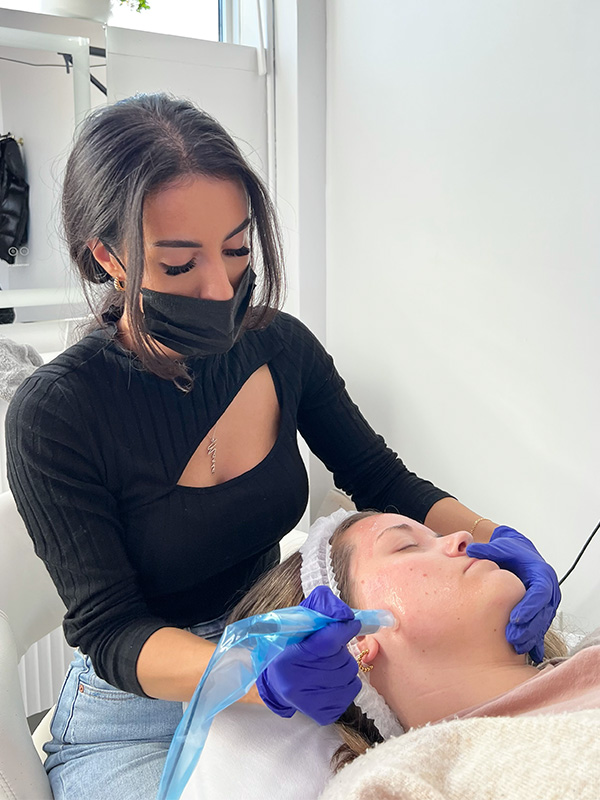 Who is microneedling good for?
This procedure is suitable for anyone wanting to combat fine lines, wrinkles, scarring and acne scarring, stretch marks, and pigmentation/melasma. The benefits of microneedling include:
minimally invasive treatment
thicker, tighter skin
improved skin tone
smooth skin texture
youthful appearance
little to no discomfort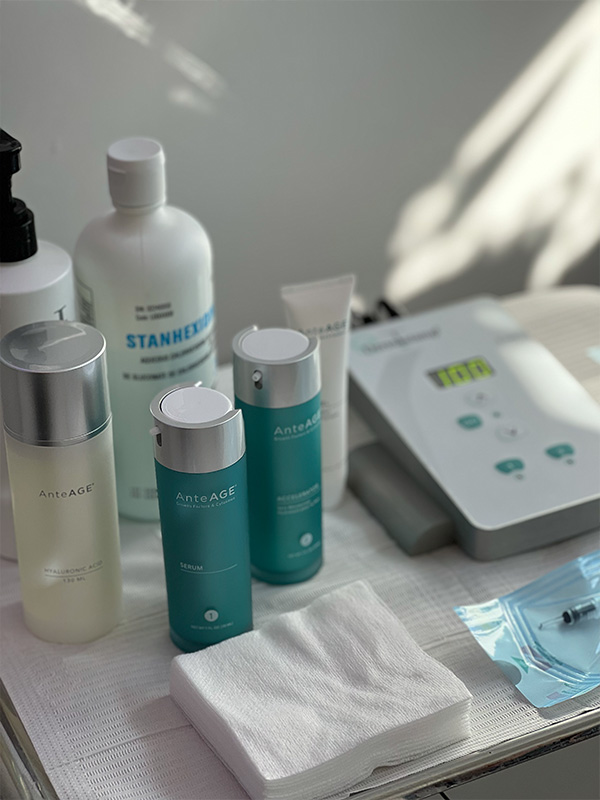 When do I see results from microneedling?
You will start to see major results in 4 weeks after each session. 3-5 sessions are required for optimal results, and also depending on the skin severity we are treating. However, slight results can be seen after just one session.
AnteAGE Microneedling
AnteAGE Microneedling solution offers a rejuvenating and healing approach to the skin, instantly revealing a more radiant complexion and to help with some of the most troubling and stubborn skin concerns including aging, fine lines, scarring, acne blemishes and sun damage.
Using the power of growth factors derived from Bone Marrow Stem Cells, these cells heal without inflammation, bringing your skin back to a healthy balance.
Combining the rejuvenating power of growth factors with the eDermastamp microneedling device, you will instantly see radiant healthy skin.
Body (stretch marks, scars)
Dermaplaning
Dermaplaning is a skin treatment that uses a special medical-grade blade to remove the outer layer of dead skin and peach fuzz. This treatment leaves your skin glowing and youthful!
What are the benefits of dermaplaning?
promotes deeper skincare product penetration
skin looks and feels smoother
makeup looks airbrushed
reduces the appearance of acne scards
best exfoliation for your skin without the harshness of scrubs
Who is dermaplaning good for?
Anyone can benefit from dermaplaning, even those with sensitive skin! Some people might feel sensitive and red after treatment, however it calms down within a few hours.
Online Booking
A credit card is required for booking an appointment online.
Cancellations
Please allow 24 hours for cancellations. Cancellations made under 24 hours will result in a late fee of 50% of the service cost.
Rescheduling
Please notify me 24 hours in advance to reschedule your appointment. Same-day rescheduling will be changed 50% of the service cost made on your credit card.
No-Shows
No-shows will be charged the full amount of the appointment missed to their credit card.
COVID-related cancellations
If a last-minute cancellation or no-show is made due to COVID reasons, you will be asked to provide test results to avoid charges.
Product Purchases
All products are non-refundable.